Morpheus is one of the leading international providers of integrated logistics services and complete supply chain solutions.

We provide support to trade and industry in the global exchange of goods - through land, air and sea freight, and in all the associated logistics services.

As a company,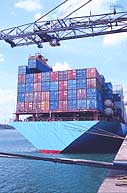 we specialize in designing of your supply chain solutions over our closely woven network across the principal economic regions across the world. We are just as qualified in providing solutions for air and sea freight and associated logistics services on a global scale. Our integrated logistics centers located at the hubs of the global flow of goods create an effective link between all carriers allowing us to offer a broad range of added-value services.

Our experts provide complete solutions tailor-made for the requirements of industry today and tomorrow. International teams of specialists integrate the Group's individual service modules to create complex added-value chains that ensure a reliable flow of materials and information.
Morpheus provides its customers with the core as well as allied services through a single window concept - a business model that has proved its worth expressed by the satisfaction of its customers.
Morpheus Supply Chain Solutions can help synchronize the flow of material, money and information for your business. Our proven experience and coverage provides companies with flexibility of modes, scalability of design and resources, scheduling and global reach. The solutions available from Morpheus Supply Chain Solutions can be your competitive edge.
We have the processes, skills and assets to deliver tailor-made solutions. Our knowledge and experience of most business sectors, gives us the tools to identify potential opportunities – and pitfalls – and proactively manage them.
For more information, please complete our Information Request Form or mail us at marketing@morpheus.co.in